SEO is becoming more crucial than ever., and it takes time and effort to learn the basics and stay on top of Google's ever-changing algorithm changes.
You can't afford to spend the time or money to take all the online SEO training that is out there.
Yet each SEO training is different in terms of approach, style, content and target audience.
As it is a real investment, you must choose a training adapted to your needs and your level. We've done some research for you and compiled a list of most effective online SEO training ourses.
Why train in SEO?
SEO is a constantly evolving discipline and it is important to keep up to date with the latest trends so that you can best optimize websites. SEO training allows you to master the different techniques to improve the natural referencing of a site on search engines.
Online courses are a great option for training in SEO, as they offer flexibility in schedules and access to quality content. In addition, taking online training allows you to benefit from the expertise of an SEO professional.
The top

online training programs for SEO
1.

Formaseo

by Olivier Andrieu
Duration: 3 training sessions of 10, 15 and 6 hours respectively – 212 video lessons
Price: from €299
Creator of the Abondance blog and author of a dozen books on SEO, Olivier Andrieu is one of the pioneers of natural referencing in France. In addition to its SEO consultant services, it also offers online training launched in 2017 and regularly updated.
All courses are delivered entirely online. Registrants go through three types of Level 1 and Level 2 modules. The different lessons and explanations take the form of videos made by Olivier Andrieu himself. In order to ensure that the learners follow correctly, questionnaires are used as an evaluation at the end of each chapter. To validate your course, it is necessary to watch all the course hours and complete all the MCQs. A final exam then comes to test the knowledge of the participants. The maximum time given by the platform to complete a major chapter is 1 year.
Formaseo is designed for beginners. It instills the basics in people who want to become professional afterwards. According to the opinions of Internet users who have completed the training, the quality is there. The modules are well structured and enriching for those who are new to SEO. The trainer also stands out for his skills and pedagogical skills. Learners will have a perfect knowledge of search engines. The training can be financed by various organizations (CPF, OPCO, Pôle Emploi, etc.)
2.

Asyncrone

Makers Training
Duration: 9 modules – 52 video lessons
Price: €299 (payable in 6 instalments)
We recently published an introductory article on the Asyncrone Makers training which promotes SEO as a way to earn passive income. No technical skills are required to register for the various modules available even if knowing WordPress is still a plus.
The course includes lessons in videos, but also in texts. Explanations are provided as clearly as possible. Regular updates are made in order to constantly harmonize with new developments in the sector. Tools are also provided to directly put into practice what has been learned.
First of all, the program allows you to learn the basics of creating a website. Then, it continues with learning the fundamentals of SEO. Particular attention is paid to the search for keywords, the writing of optimized texts or the concept of backlinks.
Asyncrone methods are accessible to everyone. Beginners have their place and can join with a reduced budget. The training is accessible for 199 euros (possibility to pay in 3 instalments). At these prices, the return on investment is attractive. Student testimonials are also very positive.
3.

Cocoon SEO Masterclass

by the Peyronnet brothers
Duration: 6 hours – 47 video lessons
Price: €200
Natural referencing has much more technical aspects than we think. In this sense, Guillaume and Sylvain Peyronnet, two SEO expert brothers, offer a complete program on this theme. Their training is called "Masterclass Cocoon SEO" and offers to study a particular concept, but very useful. Indeed, it is a question of deepening the subject of natural referencing. Learners are not satisfied with basic principles.
The training of the Peyronnet brothers is a real immersion in what is called the SEO cocoon. Learning thus focuses on referencing methods such as networking and content writing. For 200 euros, 47 different videos are provided for 6 hours in total. The whole course is done remotely. The "Cocon SEO Masterclass" is available at any time. The main modules are 12 in number with 2 to 7 sub-chapters each. Updates are regularly carried out according to the evolutions of algorithms of Google and other search engines.
The training is aimed at beginners, but also at professionals who want to enrich their bases. Website content writers will surely find what they are looking for. However, the Peyronnet brothers' platform recommends subscribing to yourtext.guru beforehand, as this tool will be very useful.
The expertise and experience of the two brothers Guillaume and Sylvain Peyronnet made this training possible. The latter use a scientific approach to natural referencing allowing a better understanding of search engines.
4.

Jérôme Pasquelin Expired Domains

Training
Duration: 70 hours – 85 video lessons
Price: €598.80
Jérôme Pasquelin is one of the many search engine experts who have decided to launch their own training courses. He has been working on the web for over 20 years. Its specialization in natural referencing dates from 2009. Its goal is to support anyone looking to use SEO tactics to make money. Both experts and newcomers are impacted. The purchase of domain names that have expired is its core tenet. He thinks this is a simple business opportunity to take advantage of. The key remuneration levels are very attractive.
SEO training is divided into two main distinct parts. In the first, learners directly address the issue of passive or semi-passive income. The learning thus focuses on the writing of sponsored articles as well as affiliation techniques. The module is supported by a concrete case study.
In the second part, Jérôme Pasquelin gives courses on the design of a Private Blog Network or PBN. The resources provided to learners consist of videos (70 hours in total), texts and articles.
Participants enjoy several benefits by registering. The accompaniment is personalized and a Facebook group is specially dedicated to promote mutual aid.
Indeed, the community around this training is made up of more than 2,000 members. Some are beginners, others are seasoned professionals. There are also free tools and also various templates. Most people were able to complete the training and are satisfied with it. The feedback is actually pretty good. Once the methods are applied, it is indeed possible to earn money semi-passively through the sale of links.
5.

LiveMentor

SEO Training
Duration: 5 modules – 36 video lessons
Price: €197
LiveMentor starts from the observation that natural referencing is too often reduced to optimizing content published on WordPress with the Yoast plugin.
In reality, SEO is more complex than that and requires mastering a whole host of factors if you want to rank your site on the opening page of Google.
This training is provided by Thomas and Baptiste, respectively responsible for SEO and marketing at LiveMentor. It is based around 5 modules which are the creation of backlinks, content, popularity, technique and performance analysis.
LiveMentor's SEO training is ideal if you are new to the world of SEO or if you are a new entrepreneur. The pair of trainers is very educational and helps you to master the principles and tools of natural referencing. Note that you will have to register on the waiting list if you wish to benefit from this training.
6.

Romain Pirotte's

black hat financial planning
Duration: 60 hours – 70 video lessons
Price: €1200 (payable in 8 instalments)
In the world of natural referencing, there are several methods that can be useful depending on the situation. The black hat is a powerful but risky technique to rank quickly on search engines. Romain Pirotte is an entrepreneur who specialized in SEO at a very young age and who was quickly recognized by the community thanks to his talent. He wishes to pass on his passion and the know-how acquired through his experience.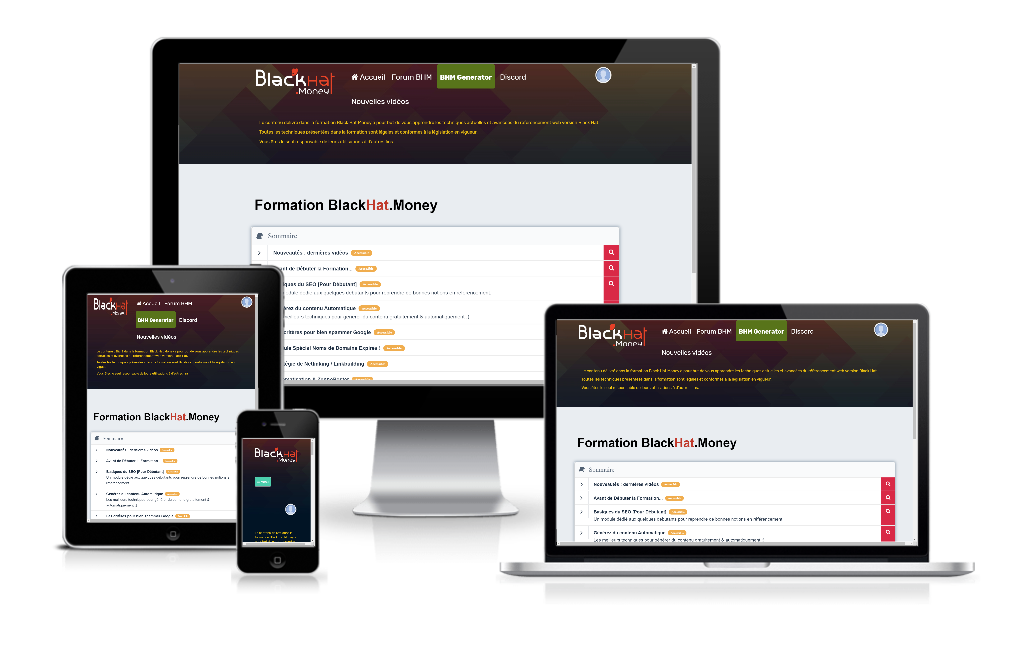 The different modules offered by his training will allow you to gradually discover the basics of SEO before learning about black hat itself. The fundamentals of site over-optimization, but also the implementation of a netlinking strategy are taught there. The training is carried out entirely online, through a series of videos totaling 60 hours of viewing.
Upon registration, participants are entitled to a premium tool for automated site content design. A dedicated forum has also been set up to promote discussions around the courses. It is possible to ask questions or receive expert from all areas of life, advice.
Romain Pirotte's Black Hat Money formation stands out above all for its uniqueness. The content of each module has been scrupulously studied so that it is perfectly clear for the learners. The main trainer shares and transmits his skills without problem. The teaching team is also made up of many other professionals selected according to strict criteria. All interested profiles have the opportunity to register. Despite the high registration fees, the benefits are quite interesting.
7.

Semrush Academy
Duration: 6 hours
Price: Free
Used by thousands of web marketing experts, Semrush has been a must-have SEO software for many years. His resources are also some of the most trusted for learning the ins and outs of SEO.
The courses offered by Semrush Academy are completely free but they are mainly based on the use of the software to improve the referencing of its site. You will have access to all the fundamental disciplines of SEO on how to carry out keyword analysis, understand the importance of backlinks, analyze traffic or perform a technical audit.
This mini-training which includes 6 hours of video is completely free.
What are the methods to train in SEO?
There are several methods to train in SEO. The most common are online courses, books and blog posts dedicated to the discipline. Online courses generally offer rich content and practical exercises to apply the concepts learned. SEO books are a great option for those who prefer to learn at their own pace. As for blog articles, they can be useful to deepen certain specific points of natural referencing.
How to choose your

online SEO training

?
if you so desire train in SEO , you must be aware that it is a real personal but also financial investment. When choosing SEO training, consider the following things such as:
The duration of the training: How long do you intend to devote to your studies? Do you prefer to take a quick and complete course or a "bootcamp" type training? The duration of the courses might range from a handful to several hours weeks; choose the length of your course wisely.
Skills You desire knowledge.: What are your reasons for wanting to study SEO? Do you want your brand to be more visible on search engines? Would you like to master common SEO techniques to improve your resume? Or Would you like to discover seo to become an SEO consultant? Courses can range from an overview to more in-depth and specialized topics which may not be suitable for all students.
The training format: Are you looking for something you can pick up and study whenever you have a spare minute, or do you want to discuss course content with a trainer and other learners? Some courses promote the feeling of belonging to a community by allowing you to interact with the trainer and your fellow students, which can be very beneficial if you want to have more extensive support.